Encouraged by defender Husker's desire to improve, Chinander talks about leverage and tackling technique on the radio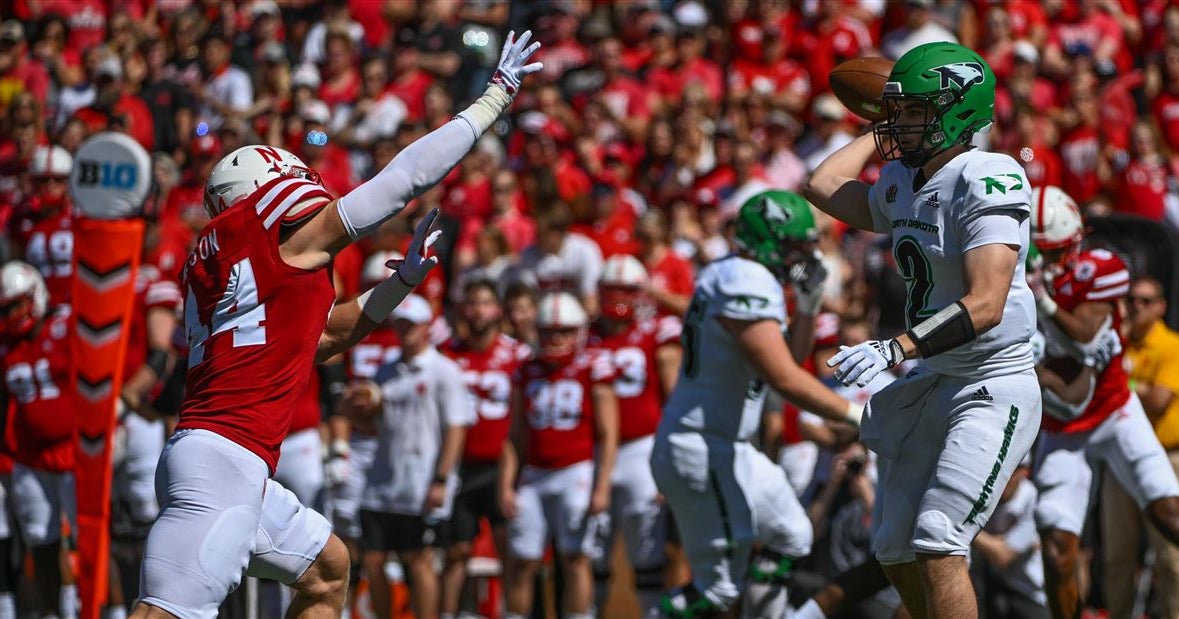 Wins and losses will matter the most, Husker's defensive coordinator understands, but trying to rack up more of those Ws, he said with any football team, it's all about where you end and not where you start a season.
To this weekly build effort for a strong finish after a choppy start, Erik Chinander expressed his encouragement at a Nebraska defensive unit that he said pushed the guys to improve every week. "I always like where our team is at," he added during an hour-long appearance on the Huskers Radio Network Thursday night.
There are positives that Chander definitely sees in his defense through two games, he said during the radio interview. "But I think guys understand that it's not quite up to the standard that they've set – not the standard that I've set – so they want to live up to what they wrote at the start of the season. They want to live up to what they think they can be."
Adopting an upbeat tone throughout both individuals and the group as a whole, the coach felt that going 1s to 1s more "has gone well" in practices this week. "I think it just speeds up the reaction time and brings you a bit closer to a match simulation."
Better leverage is crucial for the Huskers to become a better defense.
"It's become a bit of a space game…" he said of Football Today. And the big guys understand how to use their leverage, he added. "They understand where they can 'miss a tackle', although we don't want anyone to miss a tackle, but if you're going to miss one where can you miss it where people come to help you. … When guys use great leverage, they really run for the football and even if there's a miss, it's covered by other guys chasing it. That's where the problems come in."
It's a topic on the air as the Huskers try to clean up some first-two week tackle misfires that helped give up 195 rushing yards per game, third-down conversions and more.
"We're talking about the eyes on the near hip. That's where the strike zone is in college football now," Chinander said, with a nod to the rules in place. "And the way the space game became… shoot, even when I was playing football in high school, you had to stop your feet a lot, put your head on the arc, that kind of stuff. We don't believe in stopping your feet. We believe in running through tackles, running through ball carriers. Always gaining ground. Long stride, short stride, shuffling and shooting through the ball carrier. So we encourage guys to run through the tackle. Not necessarily preach a big shot but run through a tackle.
"But again, that leverage is at full strength. When a ball carrier runs into your leverage, you can shuffle it down. When a ball carrier moves away from your leverage, leverage, you can never stop your feet… So it all depends on what kind of tackle you're talking about what situation the kid is in."
The Huskers had a few sacks last week, but Chinander said there were more.
"I think those guys, they played a better game of football against North Dakota than against the Northwest…" Chinander said of Garrett Nelson and Ochaun Mathis. "They played in defense, in their game. I really thought those guys rushed the passer well, but they left sacks on the table. There's more to the guys playing, obviously , the better the pass defense, the better the DBs get, and the more the DBs cover, the better they rush at the setter, so everything has to work in symphony.
Chander said it meant a lot to the new core at the back of the Husker defense and there was constant dialogue about things that could be improved.
He expressed his confidence in the way guys like Myles Farmer and their youngster Marques Buford Jr. get to safety points.
"They soak up everything – and their lack of experience if you will – doesn't hold them back. They just keep learning and they're going to get better every week. And they're going to start seeing things a little faster like Marquel (Dismuke) and Deontai (Williams) did that. I think that group, by the end of the season as we continue to improve, that's going to be a very strong point in our team."
Chinander said cornerback Quinton Newsome isn't talked about as much because teams don't throw him much and he doesn't get beaten much.
Newcomer inside D-linemen Stephon Wynn and Devin Drew "played well" in their first two games.
Chander again said he probably could have given some of these new guys more shots that first week against Northwestern to keep the guys fresher.
"I think they're close. I think Stephon is probably closer than Devin," the coach said. "Stephon has a very high football IQ. You could tell that when you first met him and when he started talking before he was even a Husker. And to be honest with you, Devin has did a very good job of coming in and learning the system and being able to perform well there."
No surprise, Wynn is described as being ahead, as Drew arrived on the team halfway through fall camp.
Chinander appeared to play down the idea that the Huskers were lethargic for last week's game after the trip to Dublin.
Most guys slept well on the plane, and young guys usually recover quickly. He saw good efforts that Monday.
"Were we a bit lethargic? I do not know. Maybe, but maybe not too much. it did, maybe not."
The Huskers have caused a turnover in every game so far.
Chander would love to see a tilted ball or two get picked up by his guys. The Huskers don't have a pick yet this year.
"Our goal on defense right now is to get at least two a game," he said of turnovers. "So we would like to get it."
A fan also asked if he considered running more in 4-2-5.
"Yeah, we ran that 86% of the time last year…and it hasn't changed this year."
Chander is the only full-time assistant in the box, he answered another question. Although he has a bunch of GAs and quality control guys, with all the coaches from the defensive position on the field.
Georgia Southern could keep its foot on the pedal.
"I think they're going to go really fast," Chinander said. "I think coach (Clay) Helton has obviously spoken about it publicly. They want to be a high-tempo team. They have shown that they want to get the football going. But they can also make it work very adequately. They have very good running patterns. It's a zone team, it's a counter team, it's a power team. So they have all the runs available to them. But I think as and when As the game progresses, they want to wear. They want you to be on the court, not overwhelmed, and they want to go fast when they want to go fast and they want to slow down when they want to slow down.
"So I think it will be a very good challenge for our guys to see this type of team."
The coach has already made a few recruiting visits to high schools and JUCO sites during Nebraska's bye week after the game against Oklahoma.
"I like where we're at. I like some of the engaged pieces that we can't really mention and some of the engaged pieces that the public might not yet know about," he said. . "But I think in the ever-changing times of college football, you're recruiting non-stop until the start of next season. You never know. The transfer portal is open both ways and guys go and guys stay and the guys want to come and all that kind of stuff."