Holcim stock: Capital Markets Day charts course for 'green' growth (HCMLF)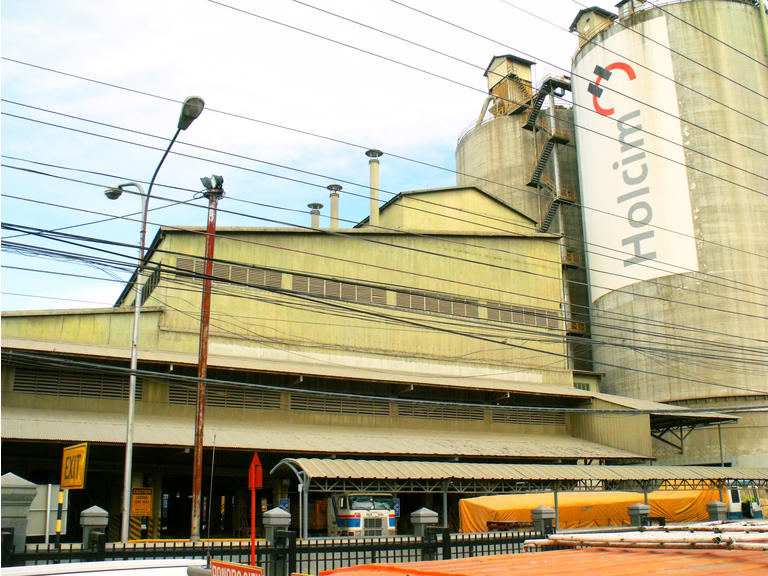 Holcim (OTCPK:HCMLF), one of the world's leading producers of cement, aggregates and concrete, recently hosted its Capital Markets Day event, outlining an accelerated path to "Strategy 2025" after achieving its fiscal year 2022 targets a year later. early. Nonetheless, the updated targets appear slightly conservative, particularly in the short term, given Holcim's plans to raise prices by 5% over the coming year, leaving room for stable volume growth or negative to come. Perhaps more importantly, however, the underlying messages of M&A-led growth and continued focus on cash flow support compelling ESG-focused portfolio shift over the medium to long term. . In light of the positive strategy update, Holcim appears well positioned as the undisputed leader in decarbonization, and with stocks offering a c. 12% FCF yield (or about 8x P/FCF), I see plenty of room for re-evaluation.
Targets broadly in line with 2025 could prove conservative
Holcim's updated financial targets offered few surprises – key targets include net sales growth of 3-5% on a comparable basis (equivalent to 2022 strategy), as well as an increase in recurring EBIT. To achieve this, the company will accelerate its growth in all markets, relying on innovative construction solutions. In addition, Holcim will also fuel growth with targeted acquisitions in mature markets in the aggregates and ready-mix concrete businesses, while stepping up digitalization across the entire value chain. This should support the planned expansion of the Solutions & Products segment to c. 30% of group sales (compared to about 12% currently). Also worth noting is the double-digit return on investment target, which should guarantee future accretive mergers and acquisitions.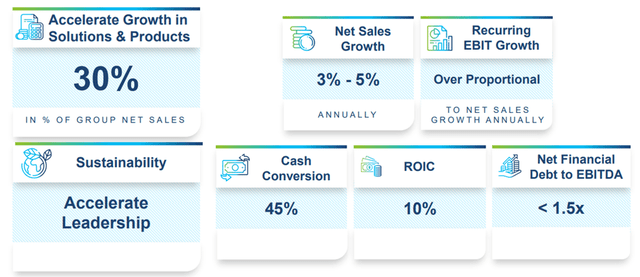 Source: Holcim CMD presentation slides
While overall revenue growth of 3-5% is solid, I would note that the net sales growth target had already been set during the 2022 strategy, which does not imply any real acceleration in growth compared to the current rate. In light of the secular tailwinds at play, including roofing growth momentum, multiple megatrends in construction, and ongoing high cost inflation to be passed on via prices (+5% in FY2021 ), however, there might be some conservatism built into these growth targets. Firestone also posted double-digit sales growth and remains on track to double to c. $4 billion by FY2025 (compared to $1.8 billion in FY2020) via strategic investments and acquisitions, I see a lot of upside to these numbers in the years ahead.
Deployment of sustainable products to support the shift to a "value-based" model
With a transition in the overall sales mix likely insufficient given the weight of current and future cement revenues, Holcim is pushing to grow its low-CO2 alternative products while decarbonizing its industrial processes. Encouragingly, the focus on ESG is accompanied by management's goal to achieve this profitably by moving from a volume-based business model to a value-based business. This involves a commercial strategy centered on offers renamed EcoPact (low-carbon concrete) and EcoPlanet (low-carbon cement). The approach has seen some success so far, with its "EcoPlanet" range already representing c. 12% of cement revenues thanks to price premiums of more than 5%.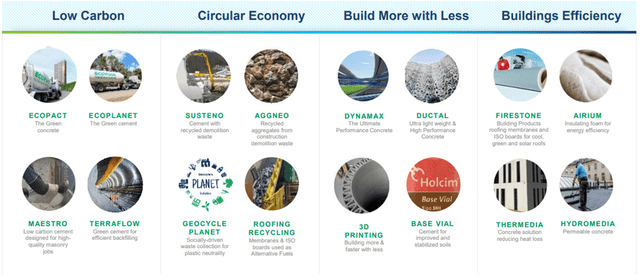 Source: Holcim CMD presentation slides
I view the proposed product development strategy as challenging given the commoditized nature of cement, although initial traction is positive. A strategy built around decommodification has not been realistic historically, but perhaps with decarbonization on the global agenda, it makes sense to move in that direction. Going forward, the key will be for Holcim to get (and stay) ahead of the game, as most other producers are likely to follow, which could put pressure on the premium pricing strategy. With that in mind, I appreciate that Holcim is also positioning itself as a solution provider to capture the higher value-added products that will be needed as this trend accelerates – for example, the company is embarking on 3D printing, which should significantly reduce the tonnage of material required in a longer-term project.
Capital allocation policies support long-term portfolio shifting
Going forward, mergers and acquisitions will likely play a key role in the overall shift in product mix in the years to come. segment as the most likely outcome. Recent acquisitions such as Firestone have played a crucial role in integrating Holcim into the non-cement product categories and therefore the scope for future expansion appears relatively broad. The key for Holcim will be to find suitable potential candidates in accordance with c. Target of 10% ROIC after tax at reasonable valuations. During this time, the company has also been active on divestments, delivering c. $3.1 billion of VE over the period 2019-2021 ($4.1 billion including divestments signed for fiscal year 2022 in Brazil). Additional divestments will likely focus on exiting non-strategic markets to fund strategic acquisitions while maintaining a strong balance sheet.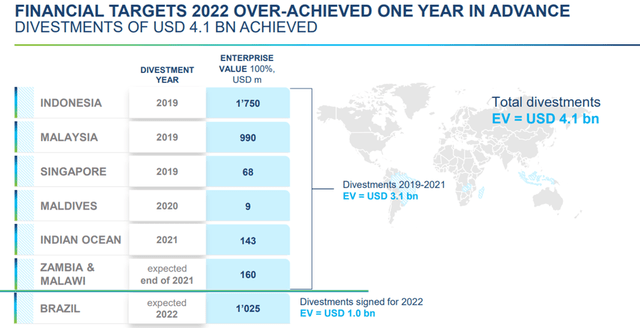 Source: Holcim CMD Presentation Slides (Performance)
Encouragingly, management seems confident in keeping FCF generation strong as well, on the back of a c. Cash conversion of 45% (compared to over 40%) and capital expenditure controlled (despite the expected ramp-up of "green" investments). This in turn should support a sub-1.5x leverage profile (lower than previous At this time, management has not specifically steered toward a discounted scope for incrementally improved cash yields or a repurchase of equities, giving way to an upside surprise on the capital return front.
Final take
Detailed information from the CMD was positive, particularly the message from the CEO regarding similar pricing expected for FY2022 (+5%), although the company's new mid-term targets remain broadly in line with expectations. Ultimately, the key will be in execution, including in implementing its planned decarbonization and upcoming building product expansion. If successful, the market could begin to reward leaders in low-CO2 (but not yet zero) products in the existing cement business, causing stocks to revalue over time as the company looks to higher growth/return building products business. At current levels, equities are attractively valued at c. 8x P/FCF.