Leverage your last mile – Is Mark Cuban an independent pharmacy partner?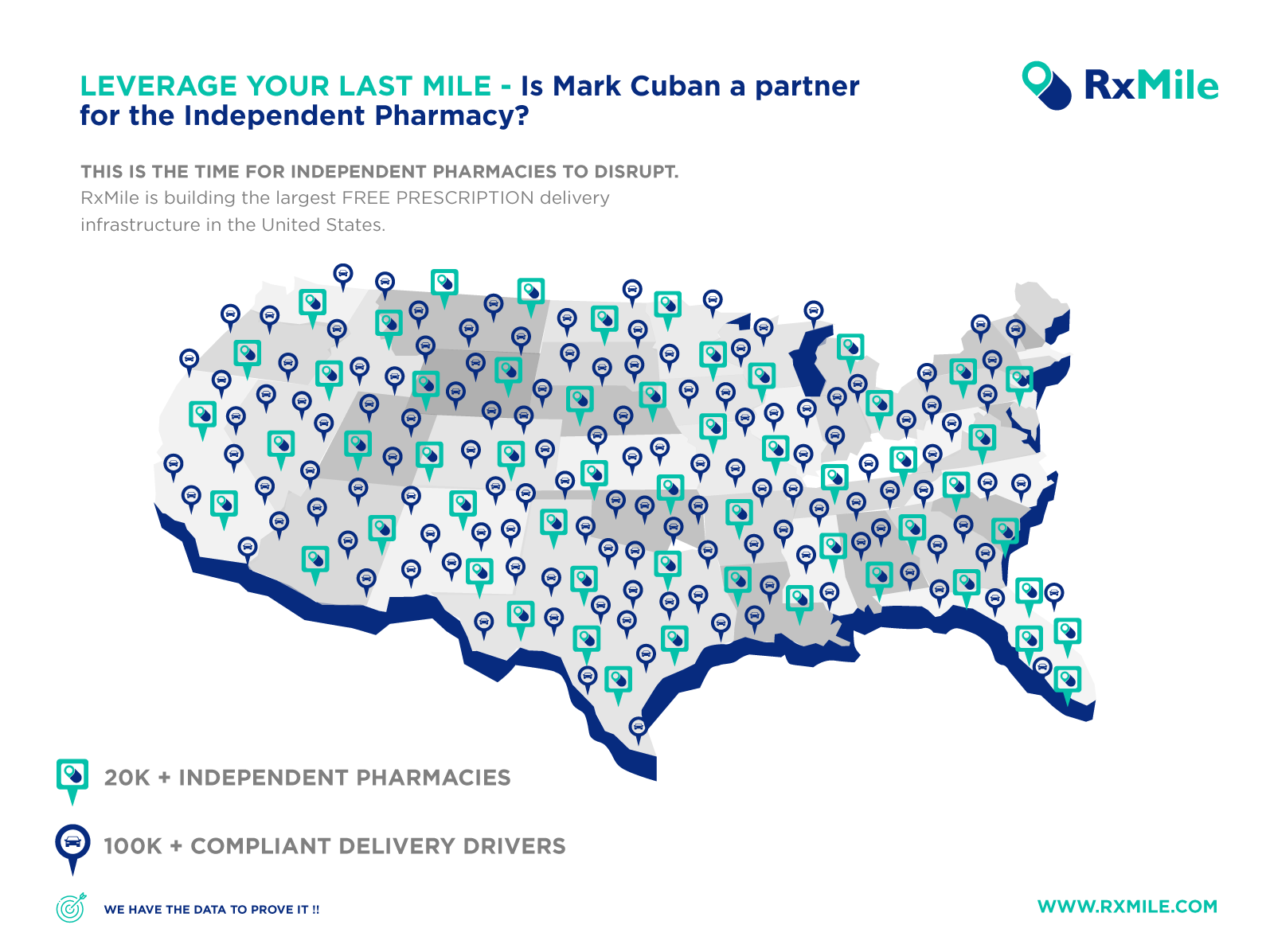 Why would a patient pay $8 for same-day delivery via a digital pharmacy startup? There is no other business model that offers free same-day home delivery than independent pharmacies. You can charge delivery for a pizza, but not for a co-pay. Since pharmacy chains offer delivery, they usually pass the cost on to the patient. What does it make sense to have a $0 co-pay with an $8 delivery charge?
Shedding light on mail-order pharmacies
Jeff Bezos' Amazon Pharmacy and Mark Cuban's MCCPD are mail-order pharmacies. According to decades of market research, the shipping of prescription pharmaceuticals through the mail is rampant with temperature control issues, delays, and patient dissatisfaction. However, Bezos and Cuba understand how the structure of the industry is broken. PBMs have made it impossible to compete fairly in the market. Recognizing their stranglehold on the pharmaceutical industry, the two players entered the industry by mail order; one bought PillPack and the other is using Truepill.
Why is Truepill used by Mark Cuban? They have the infrastructure to provide mail order nationwide. This $3 distribution fee and $5 shipping fee goes directly to Truepill. Independent pharmacies need to understand that they have the most valuable component, FREE same day delivery through thousands of direct access pharmacies that all have a human touch. This is where mail order or large chains cannot compete.
The rise of the distribution network of independent pharmacies
Could Mark Cuban create a profitable prescription delivery model with FREE same-day delivery? It should acquire thousands of physical independent pharmacies; a nightmare of mergers and acquisitions. Why does Mark Cuban use Truepill? Truepill is just the start. The ultimate goal is for patients to receive great prices and FREE same-day home delivery. Independent pharmacies have already established the plan, while RxMile is actively building this network.
The main objective of MCCPD is to reduce drug costs, which can only be achieved by becoming the manufacturer/wholesaler. So, as Mark Cuban carves out a slice of the $500 billion pharmaceutical industry, the independent pharmacy community becomes the new Truepill. Eliminating the $5 shipping fee and $3 distribution fee while offering free same-day shipping is a no-brainer. Independent pharmacies already offer free home delivery of prescriptions. By developing and building this, opportunities will arise.
"My dear owner pharmacists, congratulations, we have already built this network. Pharmacies across the United States are currently using our technology to provide cost-effective, compliant, and controlled home delivery. Despite the tokens that have been stacked against the independent pharmacy community, we have strength in numbers. As Mark Cuban says, he wants F up this industry in its current state." CEO and co-founder of RxMile, Kunal Vyas.
Join RxMile as we build this community together, one independent pharmacy at a time, keeping you profitable, compliant, and in control of home prescription delivery.
Learn more about RxMile and CEO and Co-Founder, Kunal Vyas: