OUTSIDE: TPWD Angler Recognition Program Gives Credit Where Credit is Due | News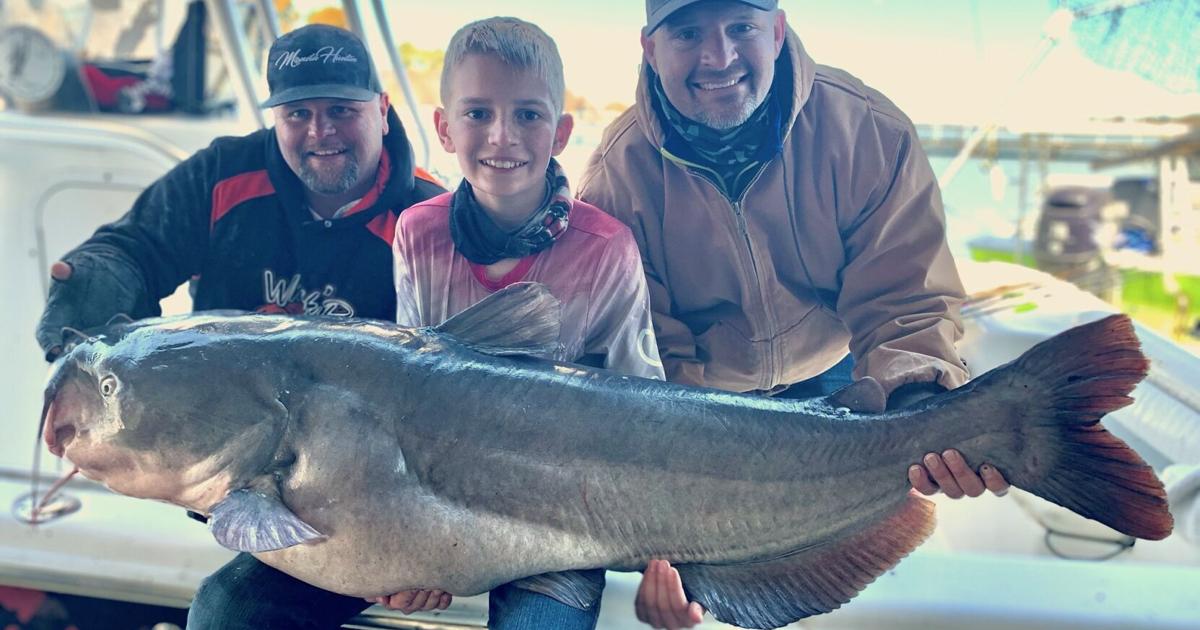 Fishing records are made to be broken, but not all are so easily broken. Young anglers Trace Jansen of Buda, Cade Childress of Pickton and Jesse Roberson of Goldthwaithe own a few Texas freshwater titles that can be pretty tough to topple.
In February 2021, Jansen was fishing with friends at Lake Travis near Austin when he caught a 15.32-pound largemouth bass. Jansen, who was just 15 at the time, said he saw the fish hanging around a spawning bed near a boat dock in about three feet of water. He cheated on him with a wacky Senko and then loaned him out to the Toyota ShareLunker program.
Childress, 12, was fishing at Lake Tawakoni in March 2021 when he landed a lunker of another type, a blue catfish with a serious weight problem. Childress' big cat weighed 72.4 pounds on a certified scale. He gobbled up a bloody piece of gizzard shad that drifted in about 22 feet of water.
Roberson's March 2006 prize-winning is another great example to illustrate that age is no barrier when it comes to getting the really big bite.
Roberson, who was just 10 at the time, was fishing a 40-acre private lake in Mills County when he threw a Texas-rigged Baby Brush Hog into shallow water and brought in a bass from human size weighing 15.54 pounds.
Lifetime catches have earned the three anglers a long list of records and awards through Texas Parks and Wildlife's Angler Recognition Program.
Witness it:
Jansen's fish is the Junior Angler state record for largemouths brought into public waters by anglers under age 17. The previous record of 13.68 pounds was set in 2019. It also broke the Lake Junior Angler record of 6.33 pounds set in 2016 and broke the former Lake Travis Body of Water Record for all ages (14.21 pounds) established in 1993.
The 50.75-inch blue Childress cat caught while fishing with guide James Evans has set four different angling records, according to Natalie Goldstrohm, who runs ARP for TPWD.
Goldstrohm said the fish is the Junior Angler state record for blue catfish, the Junior Angler body of water record for Tawakoni, the Junior Angler state catch and release record for fish -blue cat and the Junior Angler catch-and-release record for Tawakoni's blue cats.
Roberson's storybook catch was Junior Angler's state record for private waters for 16 years. Additionally, it is the heaviest Legacy Lunker ever loaned to the Toyota ShareLunker program by a young angler since the program's inception in 1986. It currently ranks as the 48th-heaviest Texas bass of all time.
Roberson's trophy chase didn't end there. The young angler also won Sharelunker Angler of the Year in 2006-07 for turning the heaviest bass of the season. He won a bunch of great prizes and other goodies, including a lifetime Texas fishing license that at the time was valued at $600.
For decades, TPWD's angler recognition program has been about more than just recognizing anglers who catch state and body of water records. The program recognizes anglers of all ages in a variety of categories for all kinds of angling achievements on public and private waters alike.
While some accomplishments may seem insignificant, they could be especially meaningful to a young person who swallows their first catfish, bluegill or crappie. Or a novice angler catching a 20 inch spotted sea trout or a 15 inch white bass.
Documented properly, these catches can earn anglers a frameable certificate in the ARP's First Fish Award or Big Fish Award categories.
Giving credit where credit is due is the name of the game with ARP. And a lot of credit is generally distributed during the year. Goldstrohm says the program has received an average of 700 applications per year since 2012.
TPWD maintains water condition and body weight records for all kinds of freshwater and saltwater game and non-game fish caught using legal means and methods. There are records in a variety of categories such as rod and reel, fly fishing, bow fishing, all ages and junior anglers in public and private waters.
In addition, there are state and water body "catch and release" records for public rod and reel and fly fishing waters in two categories, all ages and anglers. juniors.
Anglers applying for state, water, or large awards must provide as many photos of their catch as possible, along with a completed application on the department's website. tpwd.texas.gov/fishboat/fish/programs/fishrecords/.
Applications must be submitted within 60 days of capture. Applications for state catch and release records and state weight records require the signature of a notary public. The 60-day limit does not apply to catches recognized as world records by the International Game Fish Association.
If weighing is required, the fish must be weighed on a scale whose accuracy has been certified. If the scale is not certified at the time the fish is weighed, the angler has 30 days to obtain the appropriate certification.
One of the most popular recognition categories with new and young anglers is the First Fish Award. This award is intended to commemorate an angler's first fish, regardless of age.
Another popular award is the Outstanding Angler Award. This award is available to the angler whose catch does not meet the requirements of the other award categories, but still deserves some recognition.
One of the most prestigious awards an angler can win is the Elite Angler award. This is a unique prize awarded to anglers who catch trophy class fish of five different species.
Elite Angler eligibility depends on whether the angler wins five Big Fish prizes in freshwater or saltwater. The Big Fish Awards are strictly based on length. The bars are set quite high, as they should be.
To verify tpwd.texas.gov/fishboat/fish/programs/ to learn more about the TPWD Angler Recognition Program or state or research body registries for a variety of fish species.
Matt Williams is a freelance writer based in Nacogdoches. He can be contacted by email, [email protected]
Lateral bar
ARP Award Categories
Records by length
* State Catch and Release: For catching and releasing alive the longest fish of an eligible species in Texas public waters.
* Catch and release from a body of water: for the live catch and release of the longest fish of an eligible species from a public water body.
* Rod & Reel: Longest fish of a species caught with a rod/reel.
* Fly fishing: The longest fish of a species caught on the fly with artificial flies.
Weight registers
* State records for public waters: rod/reel, fly fishing, bow fishing and other legal means and methods, excluding nets.
* State records for private waters: rod/reel, fly fishing and bow fishing.
* Public body of water: Rod/reel, fly fishing, bow fishing and all paraphernalia.
Other rewards
* First fish: for the first fish caught by an angler of any age.
* Elite Angler: A lifetime achievement award for catching five different trophy class fish in the freshwater or saltwater divisions.
Outdoor panties
Ladies at the line take first place in SETX event
Cut line for the photo (2 girls with bass) Jasper High School anglers Kileigh Isom (left) and Savannah Landers landed five bass weighing 23.97 pounds in the top 474 teams in the tag team tournament of the Southeast Texas High School Bass Fishing Association held March 19 on Sam Rayburn. Courtesy photo)
By Matt Williams
outdoor writer
Hats off to anglers Kileigh Isom and Savannah Landers, both of Jasper. These two chicks can fish.
The Jasper High School teenagers weighed in a five-fish limit of 23.97 pounds for the other 473 teams in the Southeast Texas High School Bass Fishing Association's tag team tournament held March 19 on Sam Rayburn. Second place went to Tanner Jordon and Logan Killough with 23.86.
Landers, 18, is a senior; Isom is a 17 year old junior. Their team captain, Bryan Landers, said he caught the winning weight by targeting drains in 12 to 17-foot water leading to spawning flats using Carolina-rigged creature bait. Their limit was anchored at noon with 9.07 pounds caught by Isom.
SETX President Stephanie Ryder said this isn't the first time women down the line have risen to the top of one of the organization's sanctioned events. According to Ryder, Buna High School angler Emily Walker fished solo and won a SETX team event in 2014.