PayPal is being stifled by dollar devaluation, digital banking and bitcoin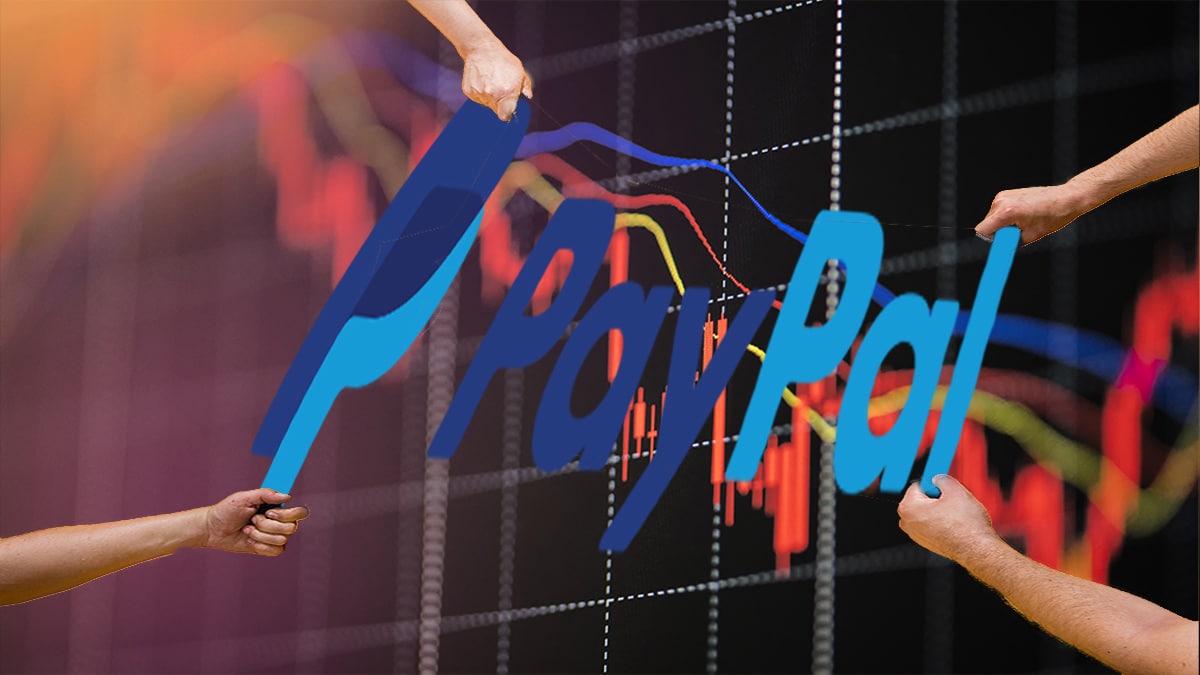 Highlights:
PayPal notes that dollar inflation has had a negative impact on its performance.

Other financial alternatives, such as Square, Klarma, and Bitcoin, have driven PayPal away from customers.
PayPal is currently having one of the company's worst daily performances in its entire history. With its shares now trading at prices they reached three years ago, there is every indication that the electronic payments giant's investors are disappointed with the company's performance and its lackluster outlook. But what is the reason for this collapse?
The slide into the red began for PayPal Holdings a few weeks ago, when company executives released fourth quarter 2021 results and future revenue guidance. Although the company managed to generate more revenue than expected at the end of last year – some $6.92 billion – the reality is that their growth expectations fell short of the 17.9% sponsored by the board and analysts.
Worse still, when focusing on PayPal's expectations for 2022, they were promising only 6% growth for the first quarter of this year in a single course. While experts in the field expected the company to aim to grow by at least 11% from the profits it receives today.
As if that weren't enough, PayPal also claimed to have lower user growth expectations for this 2022. According to the guideline, inflation would penalize the value of their services, reducing consumer spending. Likewise, they believe that problems in supply chains make it difficult to obtain better returns for this year. Generally speaking, they consider that the current geopolitical tensions, driven by Russian intentions to invade Ukraine, do not predict a better future for their actions and the growth of their businesses.
While PayPal's analysis seems realistic and its numbers aren't negative, the fact that the company has been lowering market expectations for several quarters is causing investors to lose confidence in the platform's future. PayPal also confirmed it closed some 4.5 million accounts after discovering "bad actors" taking advantage of its incentive programs, a practice that only cements the reputation that the company censors its users.
Faced with these data, the behavior of the market has been energetic. Since the release of the company's financial information, PayPal shares have lost $50 each. Trading at $104 per unit, the platform's shares are now worth the same as they were nearly three years ago, specifically in March 2019.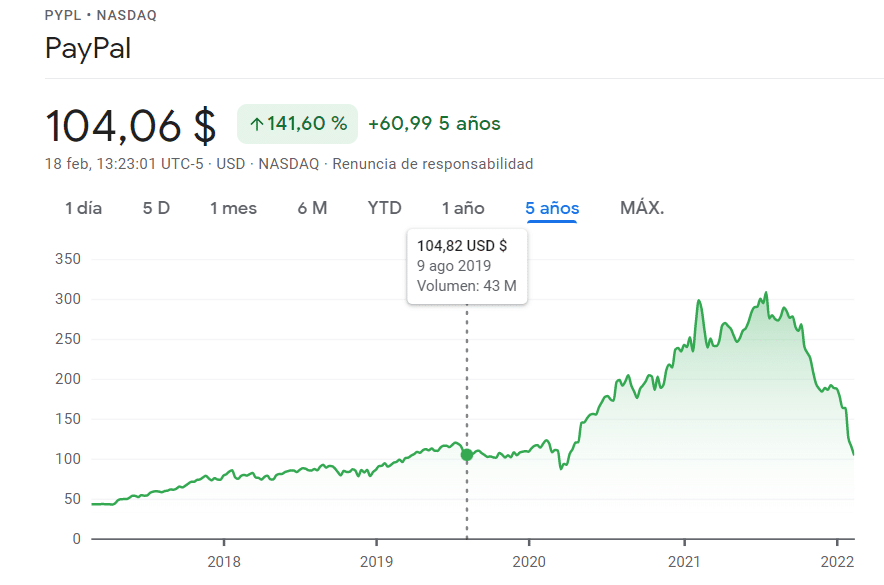 In a word, profits made during the COVID-19 quarantine period have been wiped out of stocks, one of the most prolific and favorable seasons for PayPal. And while this digital finance giant's downfall is striking, it's not the only service that has risen to popularity since 2022 and has seen a resounding downfall. Platforms such as Netflix, Spotify and the firm Meta also saw their prices drop.
What affects PayPal: increased competition or economic crisis?
According to Dan Schulman, CEO of PayPal, the blame for this behavior lies with inflation in the United States and geopolitical tensions around the world. Undoubtedly, these two elements have affected different traditional businesses and markets, even impacting the price of cryptocurrencies.
Moreover, with a weaker dollar and a world that increasingly anticipates inflation in its economies, it's no surprise that people are cutting back on spending and looking for new alternatives to protect their finances. For example, even Latin American millionaires are taking refuge in Bitcoin to maintain their fortunes, as we reported in CriptoNoticias.
This element could therefore undermine the territory of PayPal. However, the variables are many, since the increase in competition and the loss of key customers have also had a huge impact on the annual growth of the payment system. Last year, eBay announced it would stop working with PayPal and open up to embrace digital banking.
This dealt a severe blow to the digital transaction platform. Moreover, the appearance of wallets such as Klarma, Revolut and Square seems to be capturing more and more the attention of young consumers who are looking for new alternatives for payments on the Internet, point out experts in the field.
Bitcoin also helped break up the PayPal empire, becoming another international payment alternative accessible to all types of users. And that's it, at the end of last year, the cryptocurrency was already registering 10 times more money transfer volumes than PayPal itself.
Some figures indicate that not all financial services decline in 2022, but rather that the majority of users are experimenting with other options and migrating to platforms that adapt to their expectations. In this sense, bitcoin, with its censorship-resistant and value-capable characteristics, becomes an attractive asset for customers.