Three ways South African SMEs can take advantage of the busy Easter holiday period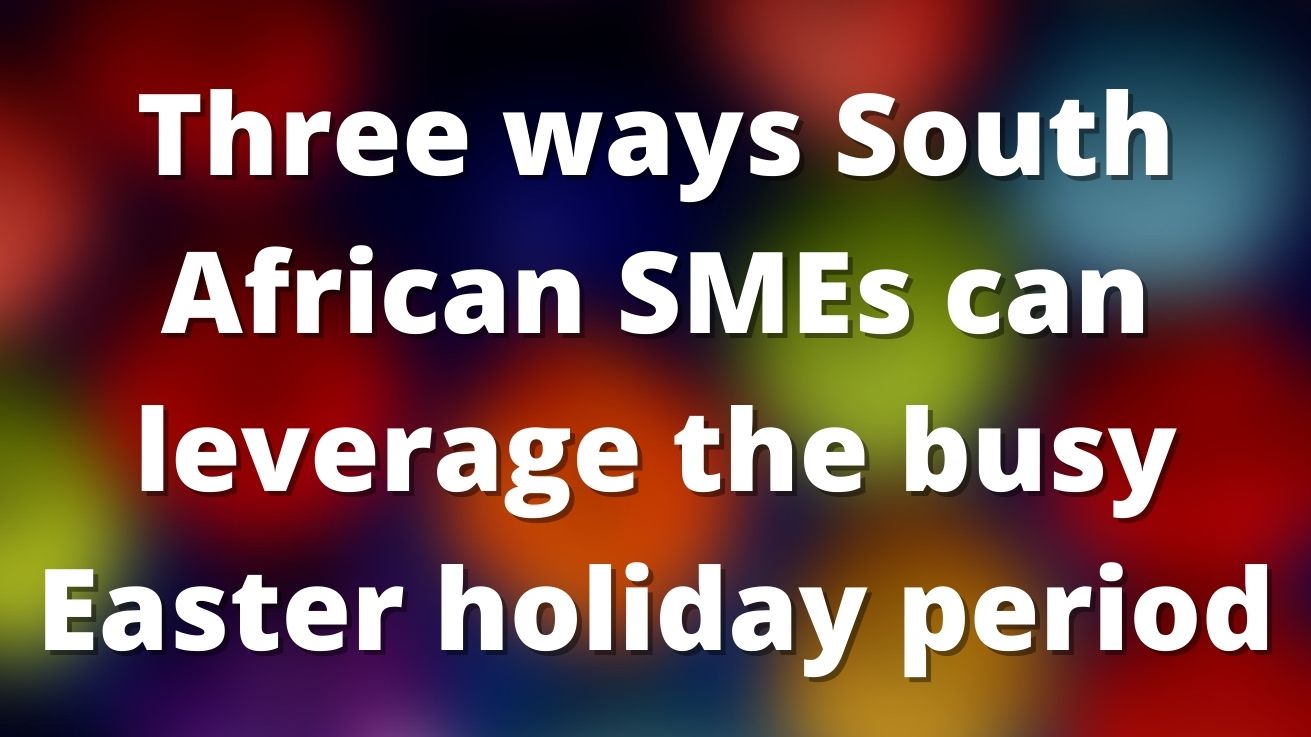 According to Stats SA, retail sales jumped just under 8% in January 2022 from a year earlier, showing that the industry is showing signs of recovery after suffering a severe blow caused by the pandemic.
Traditionally, we know that Easter is a busy time for retail. This is mainly due to the festivities around the long weekend, but also the timely arrival of children going on vacation or returning to school. This is also due to the increase in end-of-season sales and promotions that the Easter period has become associated with.
Retail SMEs can take advantage of this time by acting decisively and strategically.
the January Retail Trade Sales The Stats SA 2022 report showed that the retailers that benefited the most from this increase in sales included the following industries:
textile
Clothes
shoes, and
leather goods.
Significant progress has been seen in the pharmaceuticals, medical products, cosmetics and toiletries sectors as well as food, beverages and tobacco – coinciding with South Africans' propensity to spend more for meals and entertainment during this period.
Here are three tips for South African SMEs to make the most of this busy time:
1. Take a holistic approach to the Easter holiday
For much of the South African consumer base, the April long weekend is associated with Easter – traditionally a holiday where Easter eggs and sweets are given as gifts. Like Christmas, Easter is celebrated with giving, giving retailers the unique opportunity to broaden their perspective on how this can be leveraged to impact sales.
Small businesses struggling to find ways to adapt their offering to the traditional Easter period could adopt a more secular and inclusive approach to the holiday season, as well as the willingness for generosity and goodwill. Small business owners could, for example, offer free product samples or product experiences like hand massages.
They could mark these gifts and experiences as gifts celebrating the long weekend, such as:
the opportunity to unwind and relax
an excuse to indulge
a way to break your fast during the month of Ramadan (for Muslim shoppers), or
even as a preparation for the onset of winter.
There are several ways to mark your offering that go beyond the traditional Easter message. It is important for small businesses to capitalize on these niche opportunities in an environment where large retailers will primarily focus on Easter.
2. Focus on improving the customer experience
Easter is a peak commercial season for retailers at all levels. Physical stores and e-commerce stores can expect:
greater attendance
unique visitors
more requests for products and services, and
higher volume of returns and exchanges.
It is therefore essential to focus on customer service during this period.
Remember that as a small business, Easter can be a time to set the tone in terms of sales for the rest of the year. Too many retailers focus almost exclusively on the instant gratification that comes with increased sales. However, future-proofing your small business means thinking long-term, going beyond the long weekend, and finding ways to provide a memorable customer experience that leads to repeat sales.
Before the buying rush begins, make sure your team is trained and fully aware that they will be dealing with higher sales volumes. You can also request additional support during this period to manage aspects such as complaints, questions and after-sales service.
3. Find ways to provide value
With 2022 being the first year that lockdown regulations have been relaxed since Covid-19 began in 2020, consumers are ready to spend.
They are, however, more price sensitive, with many consumers being more succinctly aware of the importance of proper financial management and budgeting. As a small business, you can find ways to solve this problem by adding value.
Easter shoppers will be looking for value that goes beyond product and service quality. Small businesses, in particular, face the challenge of not just ensuring they deliver what they say they will, but of delivering something beyond the usual offering.
This may mean offering free shipping during this period or bundles that offer discounts on specific product groups. If you are a small interior design business, for example, you can offer a free installment or a free design consultation service.
Find ways to add value that won't hurt your bottom line and use them as a way to differentiate yourself during this busy time.
For more information, visit www.businesspartners.co.za. You can also follow Business Partners Limited on Facebook or on Twitter.
Easter retail SME advice Easter retail in South Africa Limited business partners Easter Easter week end marketing at easter marketing for easter